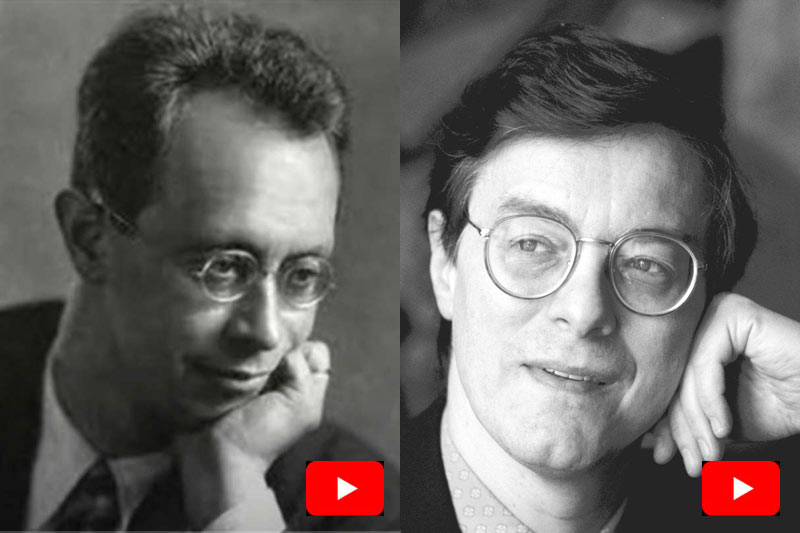 Father and son, Rudolf  and Peter Serkin both became prominent pianists and were associated with the Goldberg Variations.
 
Rudolf Serkin's 1928 performance was recorded on piano rolls and was later restored [linked above].
 
Peter Serkin recorded a number of performances of the Variations, from early to late in his career [a performance from 2017 is linked above].
Rudolf Serkin made his Berlin debut in 1921 at age 17, performing in Busch's ensemble as the keyboard soloist in the Brandenburg Concerto No. 5. At the end of the concert, Busch told Serkin to play an encore to the enthusiastic audience. Serkin later reported that he asked Busch, "What shall I play?" and Busch "as a joke" told him to play the Goldberg Variations "and I took him seriously. When I finished there were only four people left: Adolf Busch, Artur Schnabel, Alfred Einstein and me".
Born: 28 March 1903 Eger, Bohemia (now Czech Republic)
Died: 8 May 1991 Guilford, Vermont (USA)
---
Peter Serkin was born in Manhattan. In 1958. At age 11, Serkin began studying at the Curtis Institute of Music, where his teachers included the Polish pianist Mieczysław Horszowski, the American virtuoso Lee Luvisi, as well as his own father. He graduated in 1964 at age 16.
Born: 24 July 1947 Manhattan (USA)
Died: 1 February 2020 Red Hook, NY (USA)
Performances:
March 1965: New York, Recording for RCA
30 January 1982: Live recording in Freiburg
12 March 1986: Saint Paul, MN Pro Arte CDD-331
1 June 1994: New York, BMG Classics 09026 68188 2 DDD
12 November 2017: St Paul MN, Vivace VTV-8808
---
Perspective:
Rudolf Serkin, the gentle man of music (Washington Post, 10 May 1991)

Rudolf Serkin dies (New York Times, 10 May 1991)

Rudolf Serkin entry in Wikipedia

A Critic and a Pianist… (Peter Serkin in the New York Times, 4 February 2021)

Remembering Peter Serkin (NPR 3 February 2020)

Peter Serkin entry in Wikipedia

Comments/Suggestions/Criticism? email me at mh@coomans.com